The Pace Calculator's Tripod.com Home Page
Home of the WIN95/NT FREEWARE
Pace Calculator Program


Download the FREE Pace Calculator Program -- Release Version 0.62

Geocities site for the free Pace Calculator Program.

Download a self-extracting zip file of the free Pace Calculator Program.
An online version of the Pace Calculator Manual.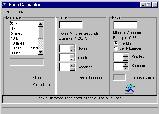 A Full Size screen shot of the FREE Pace Calculator Program.
This Page has been visited
Times.






DISTRIBUTION
------------


PaceCalculator is freeware i.e. you can use it free of charge and no registration is required. However, if you find this program useful, I would be interested in knowing. Please send an email to: pace.calculator@bigfoot.com

Even though PaceCalculator is freeware, it is not in the public domain, I reserve all rights to it. You may freely distribute copies of PaceCalculator as long as you do so in an unmodified form and include all files and documentation which are present in this archive. You may not charge for the distribution of Pace Calculator other than a reasonable fee to cover your distribution costs. The program may not be bundled with any kind of commercial products without the express permission from me. Distribution on SimTel CD-ROMs is permitted.




DISCLAIMER OF WARRANTY.
-----------------------


THIS SOFTWARE IS PROVIDED "AS IS" AND WITHOUT ANY EXPRESS OR IMPLIED WARRANTIES, INCLUDING, WITHOUT LIMITATION, THE IMPLIED WARRANTIES OF MERCHANTIBILITY AND FITNESS FOR A PARTICULAR PURPOSE. UNDER NO CIRCUMSTANCES SHALL JOE VIOLA BE LIABLE FOR ANY INDIRECT, SPECIAL, INCIDENTAL, OR CONSEQUENTIAL DAMAGES OF ANY CHARACTER INCLUDING, WITHOUT LIMITATION, DAMAGES FOR LOSS OF GOODWILL, WORK STOPPAGE, COMPUTER FAILURE OR MALFUNCTION, OR ANY AND ALL OTHER COMMERCIAL DAMAGES OR LOSSES, EVEN IF JOE VIOLA HAD BEEN INFORMED OF THE POSSIBILITY OF SUCH DAMAGES, OR FOR ANY CLAIM BY ANY OTHER PARTY.




LIMITATION OF LIABILITY
-----------------------


JOE VIOLA IS NOT RESPONSIBLE NOR LIABLE IN ANYWAY FOR ANY PROBLEMS OR DAMAGE CAUSED BY THE SOFTWARE THAT MAY RESULT FROM USING THE SOFTWARE. THIS INCLUDES, BUT IS NOT LIMITED TO, COMPUTER HARDWARE, COMPUTER SOFTWARE, OPERATING SYSTEMS, AND ANY COMPUTER OR COMPUTING ACCESSORIES. THE END USER AGREES THAT JOE VIOLA IS HARMLESS FOR ANY PROBLEMS ARISING FROM THE USE OF THE SOFTWARE. JOE VIOLA SHALL NOT IN ANY CASE BE LIABLE FOR ANY SPECIAL, INCIDENTAL, CONSEQUENTIAL, INDIRECT OR OTHER SIMILAR DAMAGES ARISING FROM ANY BREACH OF THESE WARRANTIES EVEN IF JOE VIOLA OR HIS AGENTS OR DISTRIBUTORS HAVE BEEN ADVISED OF THE POSSIBILITY OF SUCH DAMAGES.